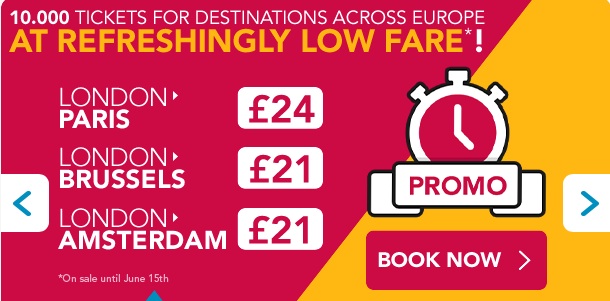 IDBUS has offered 10k tickets at a low price. This special deal is valid until 15th June.

This is a top deal from IDBUS for bargain coach travel from/to London to/from Paris, Brussels and Amsterdam.You can travel to Amsterdam and Brussels for only £21 and to Paris for only £24 one-way.

The earlier you book, the more likely you are to find the lowest fares! Looking through the carrier's website earlier today we found so many tickets at these amazing prices. Fares quoted are single fares to the specified destination and all have availablility at time of publication.

Click the link below to see the deal, then use the search box on the left hand side of the page to check availability and pricing for your chosen route. Select any journey that has the 'from £21 or £24 - Promo Price' symbol next to it.
IDBUS PROMO FARES

Have a great journey! :)