Breaking news: New Megabus services to Europe, megabus.com will take you from the UK to Paris, Amsterdam & Brussels
Posted in New coach services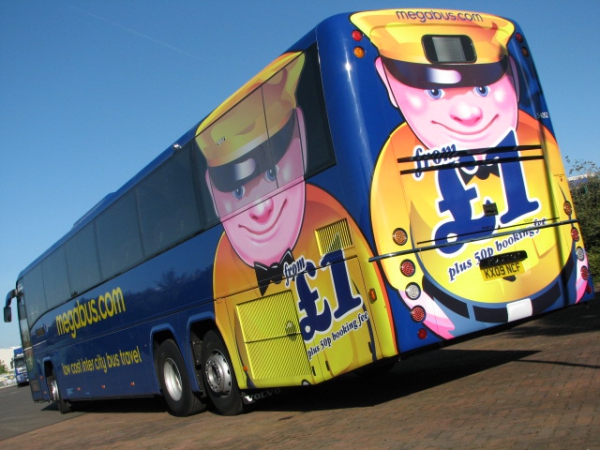 megabus.com to offer fares from £1* to France, Belgium and Netherlands
New routes give UK low-cost transport link to Paris, Brussels and Amsterdam
Easy connections for customers in Scotland, England and Wales
Dedicated Paris-Brussels-Amsterdam service included in new European network
Journeys benefit from £2.5m investment in new coaches with free wi-fi and toilets

Budget coach operator megabus.com is to expand its low-cost network by offering fares from £1 for travel from the UK to key locations in Continental Europe.
megabus.com, which already carries millions of passengers in the UK and North America every year, will serve locations in France, Belgium and the Netherlands from next month.
The market-leading company, part of Stagecoach Group, has invested £2.5 million in a fleet of 10 new coaches, equipped with free wi-fi and toilets, to offer new routes linking Paris, Boulogne, Brussels and Amsterdam.
Bookings for the new services through megabus.com website, open from tomorrow (8 March 2012), with the first services running from Monday 16 April 2012. French and Dutch language websites trading in Euros will also be launched soon.
Day and night services will operate on the new network, providing a new welcome low-cost link to the Continent through London as family budgets remain tight and people look to make their cash go further. Fares will include the cost of ferry crossings across the Channel.
megabus.com will offer three routes on its new European network:
Birmingham ⇄ Coventry ⇄ London ⇄ Boulogne ⇄ Paris
Leicester ⇄ Milton Keynes ⇄ London ⇄ Brussels ⇄ Amsterdam
Paris ⇄ Brussels ⇄ Amsterdam
Connections will be available on other megabus.com services from other locations in England - including Manchester, Leeds and Sheffield – as well as from Scotland and Wales.
Sir Brian Souter, Chief Executive of Stagecoach Group, said:
megabus.com has already transformed inter-city travel in the UK and North America with great value fares and high-quality coaches. Our new network in Europe will bring our brand to a huge new market at a time when everyone is looking to make their money go further.

Whether you are a student heading off back-packing, a family looking for a low-cost holiday, or a tourist looking to see some of Europe's great cities, fares from just £1 mean megabus.com offers unbeatable value. We are really excited about taking megabus.com to the next stage and we're sure it will be as popular in France, Belgium and the Netherlands as we've seen it be elsewhere.
megabus.com, the award-winning budget travel operator, already covers around 60 locations in the UK and more than 70 major cities in the United States and Canada.
The low fares coach service runs in and out of the heart of major cities, avoiding extra transfers and waiting associated with air travel. Clear low-cost pricing, with no extra fees for luggage or airport taxes, contrasts with budget airlines criticised for pricey add-ons to basic fares.
megabus.com – which offers daily, express travel for as low as £1 in the UK and from $1 in North America – was launched in Scotland in 2003 and expanded to the United States in 2006.
The popular service provides carries around 3 million passengers in the UK every year. More than 16 million customers have travelled with megabus.com in North America since the launch in April 2006 and the service has expanded rapidly over the past 12 months through the success of its six key hubs.
Visit megabus.com webpage for information about services, stops, schedules, arrival and departure times and fares. Bookings are also available via the jouney planner below.
Note:
A 50p booking fee applies to all journeys. A passport, valid beyond the date of return, is required for all passengers. Customers are also required to have all relevant documentation needed to comply with customs and immigration, health and other regulations.
The pick-up and departure points for the new services in Europe are:
Amsterdam - Zeeburg park and ride coach park at Zuiderzeeweg.
Boulogne - Gare de Maritime, Place de la Republique, near the town centre.
Brussels - Rue du Cardinal Mercier by the central train station.
Paris - Porte Maillot coach park, next to Palais de Congres de Paris.