It looks like Eurolines intends to reintroduce FunFares tickets.

Today I accidentally came across a carrier's page dedicated exclusively to this offer.
Funfares are nothing new of course, but Eurolines has resigned from the offer some time ago. Funfares are the cheapest tickets available ONLY ONLINE on a limited number of routes.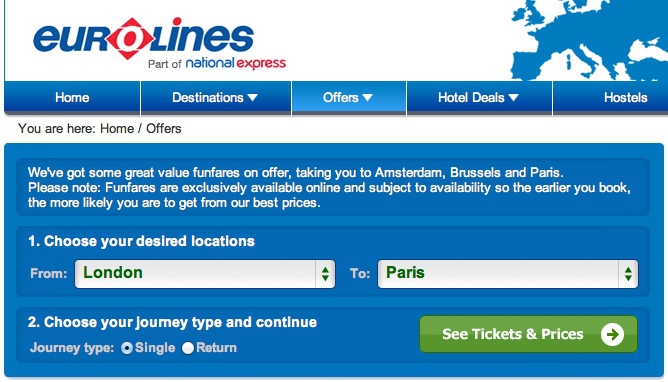 Well I think I am the first person pleased to announce that cheap fares to Europe have been reintroduced - I'm not sure if they will be available only via special page, or also from the front page - time will tell.

This page shows that now funfares tickets will only be available for connections between London and Amsterdam, Brussels and Paris.
Visit the page dedicated to FunFares
Visit the Eurolines website
So if you're looking for a last minute getaway to Amsterdam, Brussels or Paris, Eurolines is the best choice.

On selected Eurolines's routes to Amsterdam, Brussels and Paris you will find free Wi-Fi access and ample leg room. This fantastic offer is only available for a limited period so don't waste time and book up when it enters into force to save a fortune. The earlier you book the more chance you've got of getting this special fare.