To Lille from London for only £5, £8 or £24
Posted in Budget travel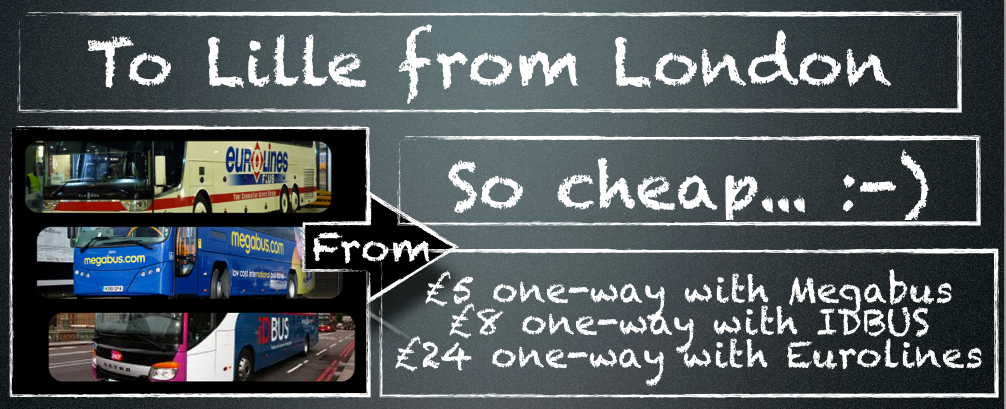 Now you can find cheap coach services to Lille from only £5 one-way. It is a limited time offer.
Travellers can choose the cheapest coach links to Lille from a range of quality coach operators (including Eurolines, IDBUS and Megabus). Currently there are already three carriers on this route, so the competition between them is tightened. Now you can travel to Lille at very attractive prices. Check out the information below.
Direct coaches to Lille from London will take approximately 5-6 hours. Unfortunately there are no direct services from other large British cities, so change is required at Victoria Coach Station. In these instances, where a connection is required, journey time will be considerably longer. All the existing carriers start route from London's Victoria Coach Station.
Travelling by coach to Lille couldn't be more convenient and, more importantly, affordable. Book your trip today!
Now you can purchase tickets through three different booking systems
| | | | | | |
| --- | --- | --- | --- | --- | --- |
| OPERATOR | ROUTE | PROMO FARES | FREQUENCY PER DAY | EXTRA FACILITIES | LINKS TO CARRIERS |
| EUROLINES | London to Lille | from £24 SGL | up to 6 | 2nd baggage free, free wifi | BOOK TICKET |
| EUROLINES | Lille to London | from €22 SGL | up to 6 | 2nd baggage free, free wifi | BOOK TICKET |
| IDBUS | London to Lille | from £8 SGL | up to 4 | free wifi, seat selection | BOOK TICKET |
| IDBUS | Lille to London | from €9 SGL | up to 4 | free wifi, seat selection | BOOK TICKET |
| MEGABUS | London to Lille | from £5 SGL | up to 2 | free wifi, 25kg of luggage allowance | BOOK TICKET |
| MEGABUS | Lille to London | from £5 SGL | up to 2 | free wifi, 25kg of luggage allowance | BOOK TICKET |