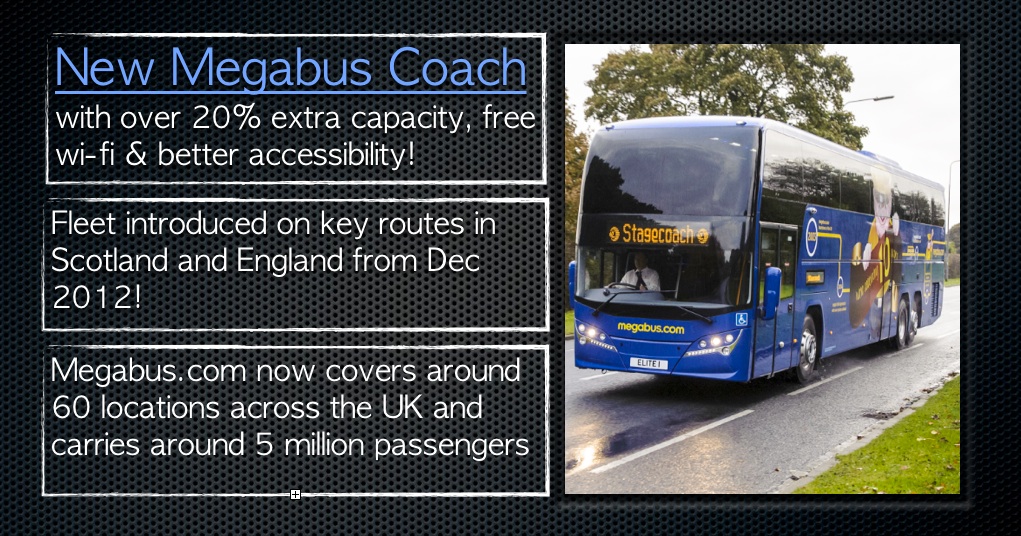 Go to megabus.com to check current timetable and prices and book a ticket for your journey.
I think they do quite well. The carrier has recently announced two good news. One concerns the purchase of new vehicles, the second information relates to a special promotion that the carrier gives.
Megabus gets a brand new coaches
The 15metre-long vehicles are being made by Scottish manufacturer Alexander Dennis. Each new Megabus coach will have 75 seats so it is over 20% extra capacity and more luggage space. They will run on Stagecoach's Megabus network in Scotland and England, mainly on two routes: Glasgow - Edinburgh - Newcastle - Sheffield – London; and Preston - Manchester – London. They may also be used on some London - Leeds and London - Exeter - Plymouth services.
The coaches, which also have lower carbon emissions and provide roll-on level access for wheelchair users, are scheduled to arrive in December.
New vehicles cost £3.2m.
The operator has worked closely with Plaxton over the past 10 months on developing this new model. The Elite i higher-capacity coach will deliver lower per passenger emissions than standard coaches. Powered by a 10.8-litre Euro 5 engine, the vehicle is based on a tri-axle Volvo B11RT underframe.
Megabus gives free seets
The Megabus Wintersale is back with over 10,000 Free Seats* available on English and Welsh routes covering over 60 great UK destinations.

Once again megabus.com has released over 10,000 Free Seats! Search and Buy your journey at megabus.com to see if you are able to nab one of the thousands of Free Seats. If you don't manage to get a Free Seats this time you'll still be able to pick up a bargain seat with prices from as little as £1 +50p booking fee.

*Travel from 14/1/13-28/2/13 Mon-Thu on English and Welsh routes only. 50p booking fee and further ts & cs apply.

For full terms and conditions of the sale please refer to www.megabus.com/wintersale-terms