Eurolines tickets to the Czech Republic now two ways of booking
Posted in Europebus news
For a wider choice and better offers EuropeBus advises you to use both journey planners (booking systems) before your coach journey to the Czech Republic. Regardless of the choice you make, it is the same Eurolines coach service. Clients on the UK - Czech Republic lines will get free water and newspapers and wide range of magazines.
The first journey planner below is provided by British Eurolines and the second one is provided by Eurolines in the Czech Republic.
After completing the data you will be redirected to the appropriate website. Of course the British website is available in English, while the Czech website apart from the Czech language is also conducted in English.
You can comfortably buy the ticket using your debit or credit card and print it yourself from your computer. Check and see how easy it is!
Book your ticket using the British booking system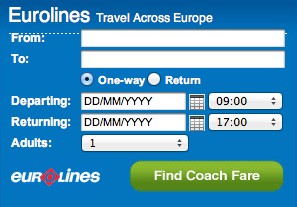 Book your ticket using the Czech booking system