Are you going to Belgium next week? Go there by Eurolines bus insted of the train. Belgium rail strike to affect Eurostar
Posted in Industry news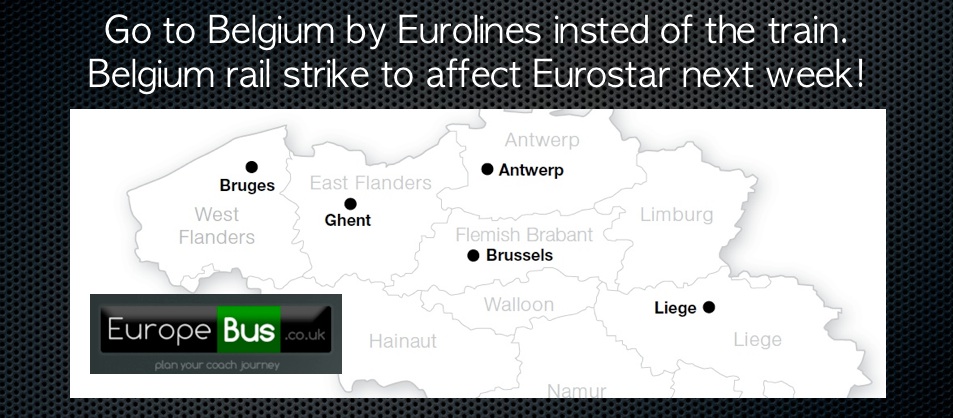 Dear travellers it has been decided that there will be a national 24 hour train strike on Wednesday October 3rd.
There will be no trains between Tuesday 2nd October 22h00 and Wednesday 3rd October 22h00. Bare this in mind while travelling to Belgium at the beginning of next week.
Buses are the best option. They provide direct transport from London to key cities in Belgium. If you are travelling from outside of London, then you will have to change at London Victoria Coach Station. Currently there are two operators Eurolines and Megabus. Megabus has connections exclusively to Brussels, while Eurolines connects Great Britain with Antwerp, Brugges, Brussels, Ghent and Liege.
You cannot buy your tickets on the bus, we strongly suggest you buy them in advance online.
| | |
| --- | --- |
| If you want to book a Eurolines service ➤➤➤ | Book Now |
| If you want to book a Megabus service ➤➤➤ | Book Now |
You can book tickets on the Eurolines or Megabus website. The process is quite simple and quick (more so than with Eurostar for instance). The tickets are really affordable, especially if you book early, but even if you book at the last minute it won't break the bank.
 The international coaches depart from London Victoria Coach Station (Gate 19 or 20). The Victoria Coach Station is fairly easy to travel to and not an unpleasant place. You'll need to check-in.
 After entering the coach you just need to sit down and make yourself as comfortable as you can (it's a good idea to bring with you a pillow and light blanket, as well as something to read, and some snacks) 
At one point you will have to go through the customs (French and British) and onto the ferry or shuttle train.

All details such as timetables, station locations, fares, etc can be found here: London to Belgium by coach

If you are going from Britain to Brussels or anywhere else in Belgium, the best way to book Eurolines is online at www.eurolines.co.uk, for Megabus services please visit www.magabus.com. You have to print your own ticket.