Sindbad-Eurobus UK To Poland Review - Easy & Cheap But Long Journey
Posted in Europebus news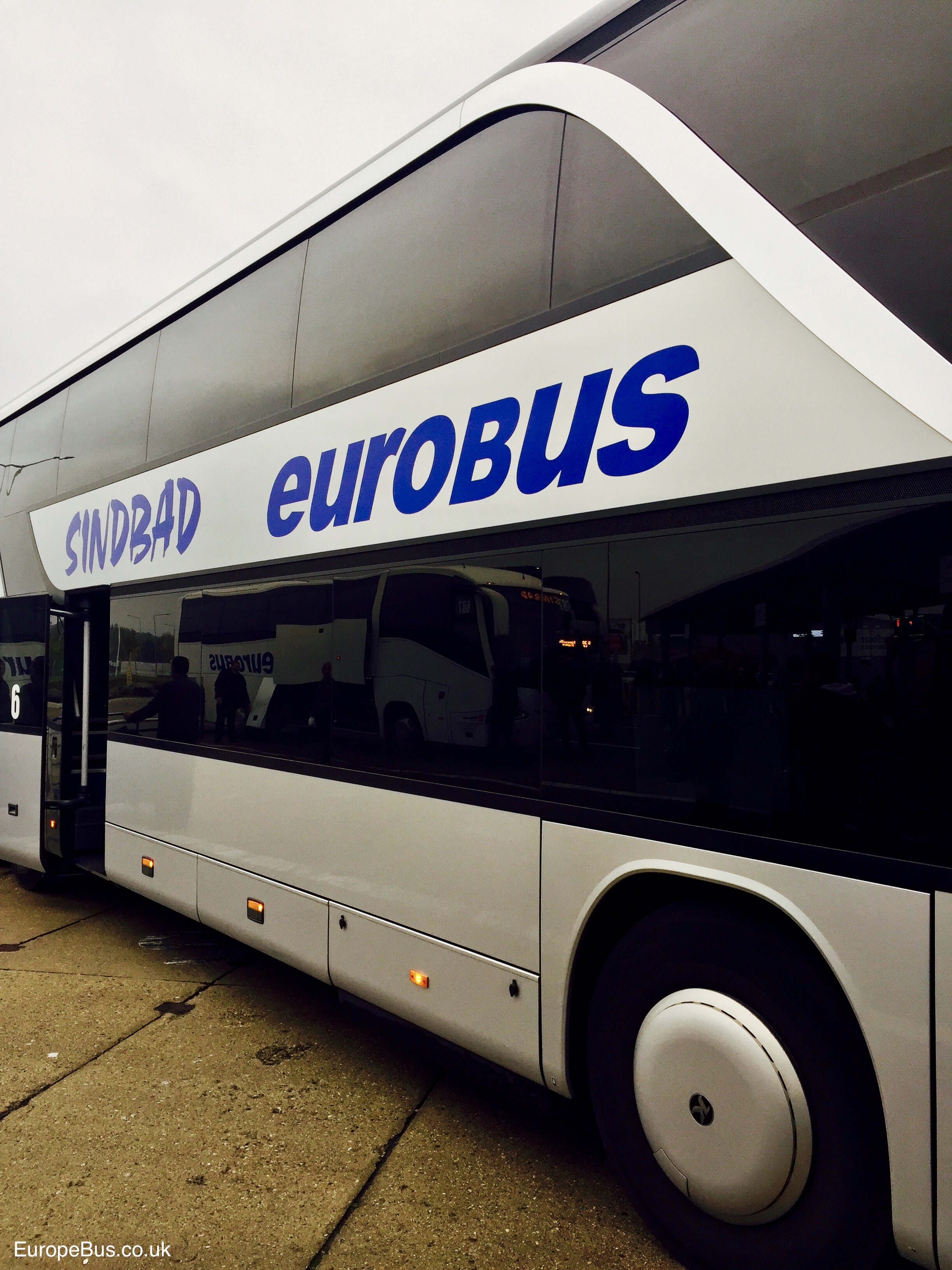 Taking a coach is the easiest way to travel between Britain and Poland. This entire post will be on the Sindbad's journey and the review, however nowadays Sindbad is a coalition for Eurolines, Eurobus, Interbus, National Express and Polonia Transport. The Sindbad-Eurobus, which's the current name, provides services for all the previously mentioned transport operators.
Obviously, travelling by coach itself is not complicated, but the journey between Poland and Britain is long and may be tiring for some people. The coach ride lasts depending on the destination more than 20 hours. Being in Europe it is so easy to get around.
Basic information
Sindbad-Eurobus offers four connections a week between England and Poland, during periods of increased tourist traffic up to seven. The fleet used by the operator varies, the average age of coaches does not exceed three years (information taken from the Sindbad website), and dominant vehicles are Setras. I would say that the transportation is carried out with good qualitative vehicles, all coaches have on-board toilet and washroom facilities, reclining seats and air-conditioning as standard. Unfortunately, not all coaches are equipped with electrical sockets ;( Available are warm and cold drinks, served by stewardesses called in Polish "pilotkami."

More about the Sindbad-Eurobus and previous experiences:
Coach travel to Poland: http://www.europebus.co.uk/poland/
Sindbad & National Express together: https://goo.gl/zwsKtP
Sindbad customer review: https://goo.gl/G3f83X

Buying tickets from London to Poland for the coach service is usually cheap about £60 single or £80 return for the 20-30 hours ride. However, when purchasing tickets, you notice the price from London to every destination in Poland it is identical. The price increases when travelling from other British towns or cities.
| | | | |
| --- | --- | --- | --- |
| Sindbad-Eurobus coach in Dover | Sindbad-Eurobus coach in Dover | The Sindbad\'s interchange point in Port Swiecko (Poland) | Sindbad-Eurobus coach in Folkestone |
| The Sindbad\'s interchange point in Port Swiecko (Poland) | The Sindbad-Eurobus coach interior | The Sindbad-Eurobus double-deck super coach | Crossing the English Channel |
| Interchanging at Port Swiecko (Poland) | The newest Sindbad-Eurobus Setra coach on the way to Britain | The Sindbad-Eurobus coach interior | Interchanging at Port Swiecko (Poland) |
Taking Sindbad-Eurobus Coach
For personal reasons arising unexpectedly my best option was the coach from Northampton (UK) to Pila (PL) and considering it takes "only" 23 hours for a coach and costs £85rtn seemed like a bargain! They had availability for the times I wanted, and they had some promotion around the web (so make sure you check beforehand).
I did some search online since there is another provider and I opted for Sindbad since they had the most reviews and seemed established. I am so glad I did.
Booking was super easy on the EuropeBus website (special booking tool), and the price was right. You have to print the ticket.

I arrived at the Northampton coach station about 20 minutes early. I did know what to expect I have travelled with Sindbad before. The coach station is a new build, but nothing impressive but the place well marked. I do not know if it's just my opinion but why all of the coach stations I have been to are somewhat neglected in contrast to the railway stations and airports.

The coach service arrived on time, and it was a white coach with a big Sindbad-Eurobus description as noted on the ticket. Drivers or stewardesses check tickets. One thing you should remember is that you have to validate your Eurolines or National Express ticket before entering the coach only if you are travelling from London Victoria. Some people hadn't paid attention to this, so they had to leave the queue and go to show passports and receive a pass which you then give to the driver.

Apart from this, the Sindbad-Eurobus ride went as expected. From London, we made only two scheduled stops at Maidstone and Dover to pick some more passengers. Between London and Poland are the only two scheduled stops in Maidstone and Dover. The Sindbad-Eurobus does not have stops passing through France, Belgium and Germany, obviously for passengers and drivers breaks are on average every 4 hours. All the breaks which we had been at large petrol stations and lasted for minimum 15 minutes (enough time to buy something, use toilets or stretch a bit).
Inconveniences
Since both countries are in the European Union, but not in the Schengen zone we had to stop at the British and French borders.  Passports and luggage were checked on both sides. This time it was not just whizzed through it. I didn't see any immigrants anywhere in France (Calais). I expected them to have camps from what we read and hear on the news! After passing the check, the ride is uninterruptible 12-hour transit ride through countries mentioned earlier. When I travelled in the summer of 2015 views from the window were beautiful, now in the autumn days are much shorter, and I focused only on displayed movies. The ride was very nice and safe. I usually get car sick, but with their ride it was fine. Passengers could use the free wifi – yay! (in Poland only). Now with my mobile operator I can use free internet anywhere in Europe too, so not that big thing for me anymore.

We arrived on time in Pila. My overall summary is such that it is a good alternative, a significant disadvantage is crossing the border between France and the UK. In my opinion, in Folkestone and Calais, we lost unnecessarily about 2-3 hours. I would consider again taking the Sindbad-Eurobus. It was top notch. Coaches have improved a lot since my last journey with them.

Find the best Sindbad-Eurobus coach-ticket deals, book your trip and go with the Sindbad-Eurobus at the lowest cost. Search for all routes using EuropeBus tools below - helping you to compare and book a range of route deals to or from the UK. Sindbad goes all over the UK and Poland, over 100 destinations are available on both ends.

Now you can purchase tickets through four different booking systems: