Breaking news: New Megabus services to Europe, megabus.com will take you from the UK to Lille, Paris, Lyon, Turin and Milan
Posted in New coach services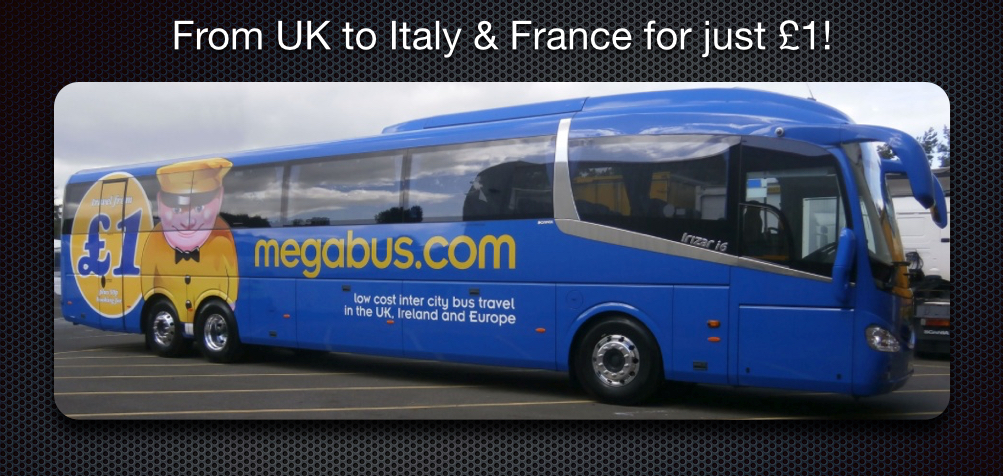 New service to link London with Lille, Paris, Lyon, Turin and Milan
First Megabus service to provide direct route between UK and Italy
Fares on all journeys to start from just £1
Tickets on sale now at www.megabus.com for travel from 8 July
Megabus yesterday (2 July 2015) announced a new international route linking the UK with Italy for the first time.
From 8 July the company is to operate two services a day in each direction between London, Lille, Paris, Lyon, Turin and Milan. The new route – which will be the only direct coach link between London and Milan - is the first Megabus connection between the UK and Italy and for the first time also provides a direct link between London and Lyon.
The route connects Britain with the new domestic Megabus network in Italy which covers 13 cities including Rome, Milan, Naples, Venice and Florence.

Megabus Managing Director Edward Hodgson said:
This new route is great news for our customers in the UK who now have access to even more great value coach links across Europe as well as linking into our new low-fares domestic network in Italy for the first time.
"These new services will also deliver a further boost for tourism by making it even easier to access affordable travel to and from Britain for people who may previously have been prohibited by the cost of travel. We are the only coach operator in Europe to offer €1* fares on all services across all routes.
Great deal from Megabus! The British low-cost carrier is offering very cheap services to France and Italy now. Megabus expands to new European destinations with prices starting at £1. Additional reservation fee is for just 0.50p. Tickets from London to France or Italy and back from £2!

Routing:
London – Lille - Paris - Lyon - Turin - Milan

All services will operate using state-of-the-art vehicles with free Wifi, power sockets, air conditioning and a toilet.

How to book:
Visit www.megabus.com To get the lowest rates you have to always read EuropeBus.co.uk/blog :)