Stagecoach launched a new route to Edinburgh Zoo. Now you can travel with the Panda Express coach
Posted in New coach services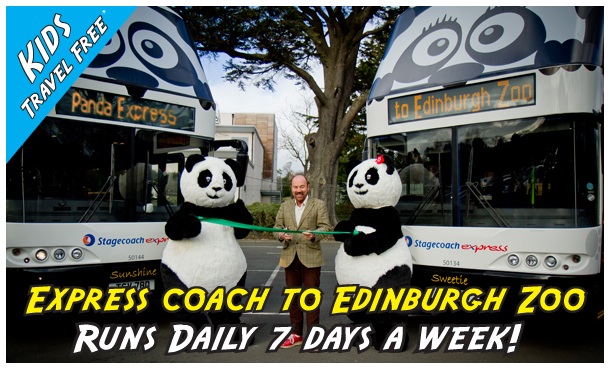 Direct coach links to the Edinburgh Zoo from West Scotland and Aberdeen
Children can travel free, pre-arranged panda slots, discounted zoo entry
The Panda Express will run on two routes:
Ayr > Prestwick > Kilmarnock > East Kilbride > Hamilton > Motherwell > Edinburgh
Aberdeen > Dundee > Glenrothes > Kirkcaldy > Edinburgh
Scots can now catch the 'Panda Express' after transport group Stagecoach launched new coach links to help the thousands of visitors flocking to Edinburgh Zoo to see its latest stars.
From Monday 27th February 2012 the Panda Express services provide hassle-free, good value day trips to see the giant pandas Tian Tian and Yang Guang.
There is one return service a day from each location, allowing passengers to arrive at the zoo in the morning and enjoy a day out before returning home in the afternoon. Children under 16 travel free, with one free child per adult.
Passengers travelling with the Panda Express during the week have the added bonus of a pre-arranged panda slot and discounted zoo entry included with their bus ticket, saving £4.50 on the standard adult entry price.
Visitors travelling at weekends or on school holidays must pre-book their panda viewing slot and are charged the standard zoo admission price.
Customers can call the booking hotline on 0871 266 3333 to book their bus ticket, reserve their Edinburgh Zoo admission tickets and get a panda viewing slot. You can also visit www.megabus.com for coach tickets.
The new Panda Express coach services were officially launched at an event at Edinburgh Zoo attended by Stagecoach Group Chief Executive Sir Brian Souter, Stagecoach Group Non-Executive Director Ewan Brown and Hugh Roberts, Chief Executive of Edinburgh Zoo.
Sir Brian Souter said:
Thousands of Scots are beating a path to see the giant pandas. They have certainly become superstars of the animal world and the country has really taken them to their heart. We hope the Panda Express will help families from across Scotland have a great, stress-free day out and save money at the same time.
Giant pandas Tian Tian and Yang Guang arrived at Edinburgh Zoo from China in December last year and are the only giant pandas in the UK. The pair, who will live at the zoo for the next 10 years, have proved so popular that already visitor numbers at the zoo have soared by 200%. Panda viewings are done in half-hour slots and around 200 people are able to see the animals during every half-hour window.
Sharon Simpson, Head of Marketing for Edinburgh Zoo, said:
The pandas have proved phenomenally popular so far and we are delighted to partner with Stagecoach to provide this service, making it even easier for people from across Scotland to visit these amazing animals in real life.  Environmentally friendly, hassle free and economic, we are certain the new service will be a huge success.
For timetables and prices about the Panda Express please visit www.stagecoachbus.com. You can also book coach tickets for the Panda Express via www.megabus.com or through the journey planner below
Terms and conditions:
One child can travel free per adult
Bus seats and panda viewing slots are subject to availability.
Pre-arranged panda viewing slots are included with travel from Monday to Friday only. Passengers travelling on the Panda Express at weekends MUST pre-book their panda viewing slots themselves before travelling.
Discounted zoo entry is not available at weekends or during school holidays.
Passengers can travel on the Panda Express services without pre-booking a bus ticket, although this is subject to seat availability. Provided seats are available, customers that choose to do this from Monday to Friday will be offered a panda viewing slot and discounted entry to the zoo. However, at weekends and on school holidays, passengers must pre-book a panda viewing slot before they travel. This can be done by calling 0871 266 3333. If they do not pre-book a slot, we cannot guarantee that they will be able to see the pandas during their visit.
Panda Express tickets can also be booked online by visiting www.megabus.com or www.stagecoachbus.com. However, passengers should note that it is essential that they pre-book their panda slots separately before travelling – this can be done by calling 0871 266 3333. If they do not pre-book a slot, we cannot guarantee that they will be able to see the pandas during their visit.
Calls to 0871 266 3333 cost 10p/min from BT landlines plus network extras. Charges from other providers or mobiles may vary. Call centre opening hours – 0700 to 2200hrs seven days a week.
Edinburgh Zoo terms and conditions apply - http://www.edinburghzoo.org.uk/visiting/panda.html