London - Stansted brand new coaches for Terravision
Posted in Industry news

London based coach operator Excalibur Coaches has taken delivery of four new Volvo B11R coaches with Sunsundegui SC7 bodywork to operate on an important Terravision contract.
Operating daily between London and Stanstead Airport, the new tri-axle Euro-5 vehicles are already proving to be popular with both passengers and drivers alike.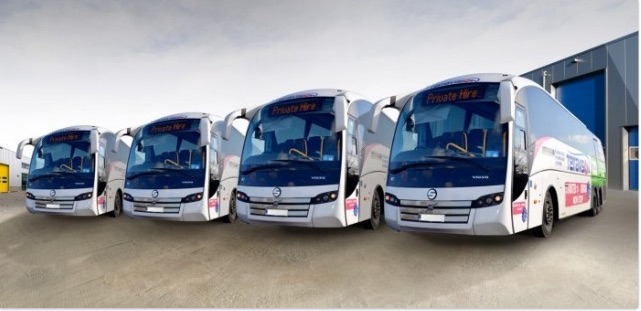 "It was the all round package from Volvo that appealed to us," explained Excalibur Coaches' Managing Director, Mark Jewell. "We've had Volvo coaches before in 2009 and the performance and reliability we've had from them undoubtedly played a major role in us specifying Volvo again.
"Volvo impressed us enormously with their fuel economy results. They were able to clearly demonstrate in-service statistics with their B11R coach and those promises are already living up to expectations.
"Our drivers and the passengers have been commenting positively on the new vehicles and we are delighted with their performance so far."
He continued, "We also receive great back-up and support from Volvo Bus and in addition Regional Coach Sales Manager, Jo Standbridge was extremely helpful and thorough. It has been yet another positive purchasing experience from Volvo Bus."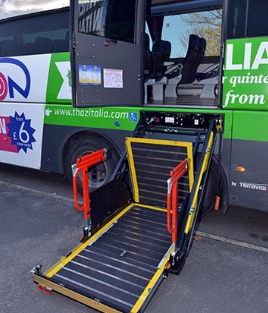 The Excalibur Coaches 14 metre vehicles have been specially adapted to adhere to DDA (Disability Discrimination Act) requirements, which include allowing space for an onboard wheelchair and installing a passenger lift.
Mark Jewell added, "It is vitally important, particularly on the busy Terravision contract, that our coaches meet DDA requirement and Volvo Bus supported us in ensuring that we met all requirements."
Excalibur Coaches four new 61-seat coaches are specified with Volvo's fuel efficient, D11C 11-litre diesel engine, rated at 460hp and coupled to the Volvo I-Shift gearbox. Each vehicle also features an onboard TV screen, WIFI and eight CCTV cameras.
Volvo Regional Sales Manager, Jo Standbridge said, "Excalibur Coaches were looking for four DDA compliant coaches and we were able to supply some quality B11Rs with Sunsundegui SC7 body in a package that suited their needs.
"Key operator requirements such as passenger capacity, fuel economy and overall reliability were achieved with these new coaches and we look forward to continuing our successful partnership in the future."
Go to Terravision website to see current timetable and prices and book a ticket for your journey.